Job Development Services are designed to give individuals the support needed to work as independently as possible in the community. Each individual is assigned a Job Developer who assists with all activities involved in the job development process. Such activities include developing a vocational goal, writing a resume, interview preparation and employment negotiation. Once a position is secured, the Job Developer provides assistance by completing the hiring paperwork and attending an orientation to assume a smooth transition to the next entity. The job can be secured by doing a pre-employment screening of the potential employee, if all works out well, they'll be on their way to getting the training needed for this job. For more information please contact Federico Chacon at [email protected].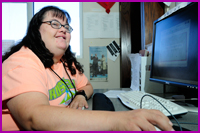 Once a job has been acquired, Job Coaches are scheduled to assist the individual in learning the new tasks/responsibilities and, most importantly, maintaining those job skills to meet the goals of the employer. These tasks are taught to the new employee utilizing methods that best fit the unique learning styles of each individual. Once the employee has ascertained and maintained the new job skills, the Job Coach implements a fade plan. For more information please contact Federico Chacon at [email protected].
When the new employee has achieved a level of comfort with the new job, the Job Coach decreases hours spent with an individual. Gradually the hours are decreased to four hour per month, in essence, one hour per week. During that hour, the Job Coach checks in with the employee and employer to ensure success and to address any concerns.
In the event that the new employee has difficulties or requires additional training on a new task, the Job Coach may resume one to one coaching for the duration of the shift.
Long term employment is the key outcome in the supported employment process. The Job Coaches and other support staff have an obligation to make this a reality. For more information please contact Federico Chacon at [email protected].
The Ticket to Work program offers people with disabilities an opportunity to achieve greater independence by providing choices in employment services and access to meaningful work. Through the Ticket to Work program at LifeROOTS, we'll assist you in finding jobs that will help you gain experience– while still maintaining your benefits. For more information or to sign up, please contact: Federico Chacon at [email protected] or call 505.255.5501.