Your generosity … doubled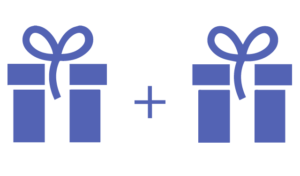 When you make a donation to LifeROOTS, you might just be able to double your contribution … and without having to open your wallet any wider. Many Albuquerque-area and Rio Rancho-area employers offer Matching Grant Programs to their employees.
And many employees aren't aware of this awesome benefit.
Here's how a Matching Grant Program works: You make a donation to an eligible nonprofit and your company matches your donation dollar for dollar up to a predetermined amount.
This is like giving to LifeROOTS twice.
Matching Grant Programs are great because donors who work for companies that offer this extra money are able to maximize their support of adults and children in the Albuquerque and Rio Rancho areas who have physical, developmental or behavioral disabilities and who are seeking self-sufficiency through LifeROOTS.
Because of Matching Grant Programs, LifeROOTS is able to provide that much more with our Early Childhood Intervention, therapy, parenting support groups, day habilitation, supported employment, job development and literacy initiatives.
Before you make your generous donation to LifeROOTS, check with your employer or your company's human resources office to find out whether a Matching Grant Program is one of the benefits offered to you.
Many companies have limits on their matching programs, but those limits are often in the thousands. Donors who are interested in optimizing their positive impact on LifeROOTS might consider ways to increase their contribution to reach their employer's limits, either by asking friends and family to pool resources or by starting a Facebook Fundraiser.
Some employers even go beyond dollar-for-dollar matches and offer three or four times the amount you donate, so it's important to know your employer's guidelines before making your contribution.
When it comes to supporting LifeROOTS, every bit counts and every small contribution we receive adds up to big things for those we help.
Questions about Matching Gifts, contact Trudy at (505) 255-5501 or [email protected].
We take great pride in our ability to provide a superior job and to help our workers who have a disability become productive, contributing members of our community. Needs we can fill:
For more than 20 years LifeROOTS has operated affirmative business opportunities that provide valuable services for area businesses while providing employment for people with disabilities. LifeROOTS is a recognized leader in providing contract services to organizations in the areas of: Custodial Services, Grounds Maintenance, Packaging & Assembly, Bulk Mailing & Sorting, Shipping & Receiving, Presentation Preparation, Envelope Stuffing, Warehousing, Call Center Support, and Administrative Services.