Step 1: Choose How to Give
It's now easier than ever to make a donation online. Simply decide on how you would like to contribute, click on one of the links below, and insert your credit card information to complete your generous gift. You can make a one-time donation, purchase a tile for tomorrow, buy LifeROOTS merchandise such as T-Shirts, Sweaters, and more or learn how to give through planned giving or write a check.
Step 2: Make a Difference in the Lives of People with Disabilities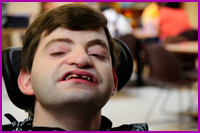 LifeROOTS can't achieve it's mission without your help. Please consider making a gift that will have a real impact on the lives of people with disabilities. If you want your gift to go to a specific program or service, please let us know when you make your donation.
LifeROOTS develops programs and services that enable people with disabilities to achieve their highest level of self-sufficiency and independence by providing therapy services, early intervention, job and vocational rehabilitation, career services, state-of-the-art literacy programs and much, much more. We assist workers with disabilities in finding and keeping jobs. We teach people new life skills like how to shop for groceries, how to do banking, or how to ride the bus and cross the street safely so they can live more independently. We have the states premier day habilitation program. With your help and support, together we can make miracles happen. You can learn more about LifeROOTS other services and programs on this website.
These are only a few of the ways we help people with disabilities find a valued role in our community.