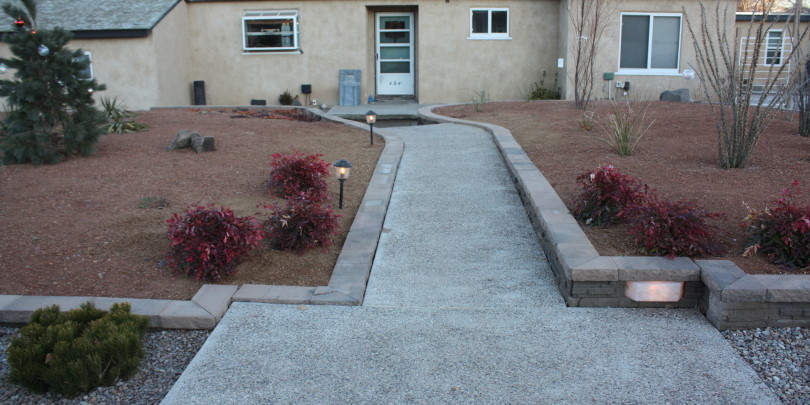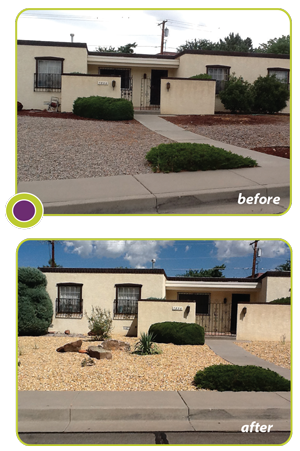 Our Groundskeeping/Grounds Maintenance Services program continues to grow and expand at LifeWORKS. In addition to offering people with disabilities opportunities for meaningful employment within the community, our Groundskeeping/Grounds Maintenance Services program provides people with dedicated workers committed to a job well done – and benefits all involved. Through this program, building managers, property owners and homeowners save time and money, and people with disabilities are able to provide a valuable service through their hard work.
In addition to the numerous groundskeeping contracts LifeWORKS has with some major companies and organizations in New Mexico, our LifeWORKS groundskeeping team also is helping local residents throughout the region beautify and care for their yards. This summer, LifeWORKS groundskeeping team members were out in full force helping to add "life" to some local yards – garnering thanks, and praise, from many local residents who witnessed first-hand how LifeWORKS worked diligently, and skillfully, to help transform their yards.
One local resident summed up her experiences with the LifeWORKS Groundskeeping Program this summer – and shared photos of the great work done by the team.
"My yard was a big grey mess… full of grey rocks and absolutely no life. After meeting with Matthew from LifeWorks, we discussed my budget and my wish for a pretty yard with color. Not only did he come back to me quickly with a drawing and ideas, but he came up with great solutions that fit my budget. Work started on a Monday with six workers showing up led by Chris, the landscape architect and every one of them worked from early morning until late in the day removing the ugly grey rock. Working from home, I had the benefit of listening to their conversations that involved Chris teaching the workers about how to do things, how a drip system is installed, showing them how to easily move rock, dig holes for plants … and everything else that goes into creating a beautiful outdoor space – even the Clean Pro Gutter Cleaning Topeka company came over and sorted out my gutters for me! Every little thing counts. After only a week, my yard went from a boring gray mess to a beautiful outdoor oasis that instantly enhanced my property – all within my budget and within the time frame they promised. Best of all, not only did I gain a beautiful new yard, but I gained a great deal personally — knowing that I gave six great guys an opportunity to learn and work."
For more information about LifeWORKS Groundskeeping/Grounds Maintenance services and how your company, organization – or your own backyard – can benefit from our team of dedicated and skilled groundskeepers, call us at (505) 255-5501 or visit us at www.liferootsnm.org/businesssupport.